"When you're done fooling about..."
Chocolates, Confections, Gifts and Baskets.
Serving the Philadelphia Main Line Since 1986.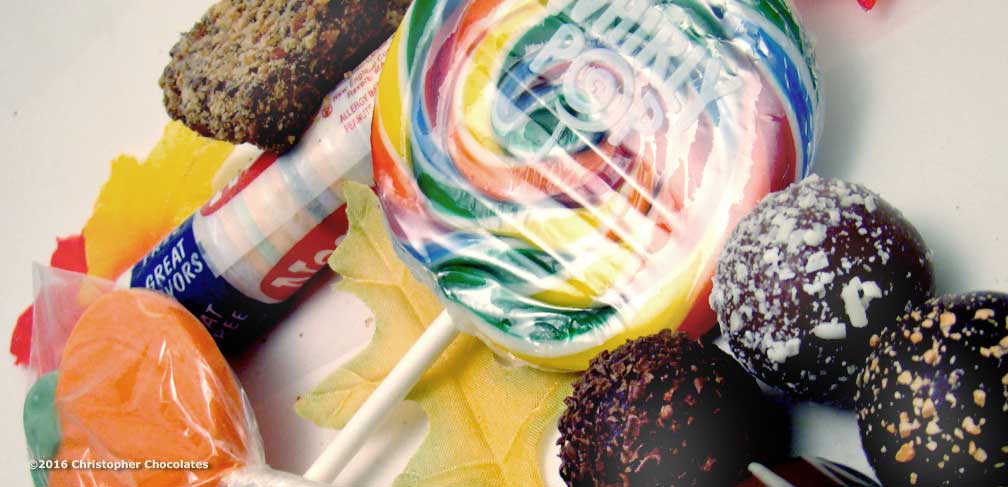 Timeless Favorites
Wow, Great Candy and stuff! Christopher Chocolate has a collection of timeless classics in store for you. The products you remember growing up, and even some that grandpop or grandmom shared with you! Very unique fun snacks for generations.
Make Halloween Delicious!
Halloween doesn't need to just be "spooky" our treats aren't tricky at all. Pure deliciousness.
Delicious Luxury Chocolates
Christopher Chocolates is famed for our classic Christopher Boxed assortments. Not only do we provide mixes of everyones favorites but can customize the mix to your requests*
Gift Baskets
Known throughout the Philadelphia Mainline as the correct place to get premium gift baskets for all occasions.
No ordinary Halloweens here!
Why have the usual Halloween when Christopher Chocolates can help you make yours outstanding?
Truffles by the score
Enjoy a box of one of mankind's finest acheivements!
Sugar Free
Delicious candy specifically for your dietary needs and glycemic concerns!
It is an honor beyond measure to serve and participate in the wonderful communities of Delaware, Philadelphia, Chester and Montgomery Counties from our location in Newtown Square for such a long time. Knowing we've been a part of countless parties, celebrations, events and milestones in peoples lives... words fail us but our very best product and service and "Thank you" is the best we can do!
We promise to do our best to live up to a mission of enhancing your lifes sweetest moments. Please check out our website and see what we have in store. From our premium Chocolate Assortments to abundant gift baskets, snacks and all types of candies. Your sweet tooth won't go unsatisfied.
When you're looking for something special that shows you care and gives your friends, family or an event a local flavor you're looking for Christopher Chocolates. What we offer here in addition to highest quality confections and snacks is a personal, thoughtful and local touch. Once your guests have enjoyed a sample they'll love you (even more). Come on down and have a look for yourself.
Our gift baskets are the BEST, they're awesome. Your friends will be so pleased they will never ever ever let you down. They will be yours for life. It gets no better than this, we assure you.
Our Sweet History
The Lamparelli Family has been making life sweeter here in Delaware County PA since 1986. David & Laurel started the business based on a passion and recipes handed down for generations at this very location in Newtown Square.
The Best Chocolates
Our Family knows "Our product is our Reputation" and of course we take this most seriously. Let us show you why Christophers Chocolates are better, you'll taste the difference immediately.
Christopher Chocolates is different. Once you know the difference between fine chocolates and those available at every discount store it becomes obvious. The impeccable quality we make available to our valued clients is simply a higher level of quality. Once you taste the difference it's easy to see. Stop on in for a sample of sweet.
Welcome Aboard First Class
The Executive Registry
Christopher Chocolate saves the best for our premiere Executive clientele. Our convenient service is designed to keep you aware of upcoming events so you can be best prepared. Additionally as new products are introduced and seasonal products become available this is how we can keep you up-to-date.
Get the Executive Service you deserve.
How may we serve you?
Drop us a line today and we will get you quick answers and candy.
Christopher Chocolates is located on the Philadelphia Main Line in Newtown Square.
3519 West Chester Pike
Newtown Square, PA
610-359-1669
Christopher Chocolates, a fine confectioner located since 1986 on the Philadelphia Mainline. We produce our own unique candy products but also sell a broad range of candy and snacking delights. We also specialize in Gift Baskets that have delighted generations.
Please use the form attached to be signed on our executive registry. This will keep you posted on special calendar events and offers exclusive to our most favored customers.